Teacher's Pet


Club
Spirit
Character #
008 (S1 and Glitter)
Series
1/Glitter
Rarity
Fancy (S1)

Fabulous (Glitter)

Physical and Vital Information
Hair/Eye
Dark Pink (Hair)

Turquoise (Eye)

Quote
"Straight A's 4 Eva" (S1)

"I'm just full of bright ideas." (Glitter)

Reveal Surprise
S1 Spit and Tinkle GS Tinkle and cry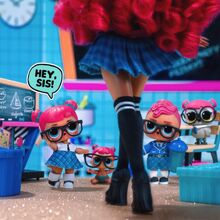 Teacher's Pet is a Fancy LOL from series 1, part of the Spirit Club. She has an older sister, a little sister, a twin brother, and a pet owl. She was later released in the Glitter series.
Appearance
Normal
Teacher's Pet has dark tan skin and freckles, and she has turquoise eyes that she wears big black glasses over. Her lips are pink and she has very faint blush. Her magenta hair is worn up in buns held by a braid around the base, where a small azure bow rests. Her bangs are straight cut with a tiny split on the side. She wears a white collared top with a black tie, a blue plaid skirt, black and white sneakers, and white crimped socks.
Glitter
Her hair is coated in glitter and she keeps her normal bows and glasses. Her socks gain two black stripes around the top and her shoes turn azure. She wears a glittering silver long-sleeved school uniform top with azure collar and two stripes on each sleeve. Her skirt is traded for a glittering blue pair of short-shorts trim with ruffles.
Trivia
A teacher's pet is a teacher's favourite student.
Her glitter doll comes with red hair, rather than pink. As well as glittering shoes and her normal skirt.
Gallery