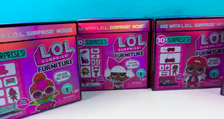 The LOL Surprise! Furniture line is one of the many spin-offs introduced to the LOL series. This series focuses on furniture items themed around a specific room or area, and each box is based on a specific LOL character and their family, and the box unfolds to be used as a playset.
Each box contains the LOL tot associated with it, along with 9 other furniture items. The series is related to the OMG Fashion Doll line. 
Series 1 features 4 styles to collect.
Series 1
Cozy Coupe
Beauty Salon
Boutique
Bedroom
Appearance
The box is metallic hot pink and black with a rainbow-esque shine. The top resembles a packing box, with a big piece of trape going down the center, postage stamps, and various symbols.
Bedroom
The floor is white tile with a fuzzy pink carpet, while the wall is blue, coveredi in purple circles, hot pink curls, teal triangles, dark blue wavy lines, and wavier gold lines. Beneath the middle is a white line with black speckles covering it, and the remainder of the wall is opposite in color. On the wall are four neon lines coming in blue, purple, pink, and peach, and on another wall is a band of photos, and a large television. The room also has a small stand, and a shelf with various items.
Beauty Salon
Boutique
Cozy Coupe
The car is metallic red with a white top. It has a little tykes logo on each side and only one opening door. The steering wheel is gold and shaped like a chain necklace. the bumper is gold with a licence plate that says "micdrop". It comes with two hanging decorations: a green pine tree air freshener, and a hanging dice decoration, which is red. The wagon is the same metallic red color, and it is almost shaped like a mini car. It has a gold bumper with a licence plate that says "beats". The last thing it comes with is a sheet of stickers. They are meant to look like bumper stickers. One is a flat gold (meant to look metallic but isnt) that says "baby on board". The other one is white and it says I (broken heart) my sister.
Trivia
Gallery