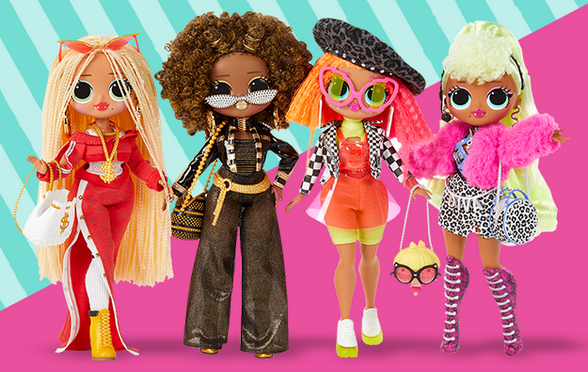 The L.O.L O.M.G (Outrageous Millennial Girls) are fashion dolls that are the bigger siblings to popular/fan favorite LOL Surprise tots and lil sisters. It is the third overall spinoff to the LOL Surprise line, succeeding the Pets and Lils.
The dolls debuted on July 7th 2019, with the first line (Series 1) featuring Royal Bee (big sister to Queen Bee), Neonlicious (big sister to Neon Q.T.), Swag (big sister to M.C. Swag), and Lady Diva (big sister to Diva).
Since then, many lines have been released and a total of 40+ characters have made their debut in the line including the first ever OMG boy, Rocker Boi, who was exclusive to a two-pack with Punk Grrrl in 2020.
Chart of O.M.G. Dolls
| | | | |
| --- | --- | --- | --- |
| | | | |
| Lady Diva: Sister to Diva and Lil Diva. | Swag: Sister to M.C. Swag, Swaggie, and Lil M.C. Swag. | Neonlicious: Sister to Neon Q.T., Lil Neon Q.T., and Neon Guy. | Royal Bee: Sister to Queen Bee, King Bee, and Lil Queen Bee. |
| | | | |
| 24k D.J.: Sister to D.J., Mix Boi, and Lil D.J. | Cosmic Nova: Sister to Cosmic Queen and Lil Cosmic Queen. | Snowlicious: Sister to Snow Angel and Lil Snow Angel. | Dollie: Sister to Dollface and Lil Dollface. |
| | | | |
| Crystal Star: Sister to Crystal Queen and Lil Crystal Queen. | Uptown Girl: Sister to Prim, Proper, Preppy, and Lil Prim. | Downtown B.B.: Sister to Downtown Doll, City Boi, City Slicker, and Lil Downtown Doll. | Shadow: Sister to Midnight, Midnight Boy, and Lil Midnight. |
| | | | |
| Candylicious: Sister to Bon Bon, Kawaii Guy and Lil Bon Bon. | Miss Independent: Sister to Independent Queen, Independent Dude, and Lil Independent Queen. | Alt Grrrl: Sister to Grunge Grrrl and Lil Grunge Grrrl. | Busy B.B.: Sister to Can Do Baby, Gear Guy, and Lil Can Do Baby. |
| | | | |
| Angles: Sister to Shapes and Lil Shapes. | Dazzle: Sister to Glitter Queen and Lil Glitter Queen. | Groovy Babe: Sister to Beatnik Babe and Lil Beatnik Babe. | Speedster: Sister to Drag Racer, Lil Drag Racer, and Lil Racer Boi. |
| | | | |
| Chillax: Sister to Sleepy Bones and Lil Sleepy Bones. | Class Prez: Sister to Teacher's Pet, Smarty Pants, and Lil Teacher's Pet. | Da Boss: Sister to Boss Queen and Lil Boss Queen. | Roller Chick: Sister to Roller Sk8ter and Lil Roller Sk8ter. |
| | | | |
| Kitty K: Sister to Kitty Queen and Lil Kitty Queen. | Pop B.B.: Sister to 80s B.B. and Lil 80s B.B.. | Lonestar: Sister to Line Dancer, Do-Si-Dude, and Lil Line Dancer. | Honeylicious: Sister to Honey Bun, Honey Boi, and Lil Honey Bun. |
| | | | |
| Jukebox B.B.: Sister to The Queen and The Lil Queen. | Metal Chick: Sister to Metal Babe. | Fame Queen: Sister to Goo-Goo Queen, Lil Baby Goo-Goo and Lil Goo-Goo Queen. | Ferocious: Sister to Fierce and Lil Fierce. |
| | | | |
| Bhad Gurl: Sister to Bhaddie, Bhaddie Bro. and Lil Bhaddie. | Punk Grrrl: Sister to Punk Boi, Lil Punk Grrrl, and Lil Punk Boi. | Rocker Boi: Brother to Rocker and Lil Rocker. | Big Wig: Sister to Madame Queen and Lil Madame Queen. |
| | | | |
| Camp Cutie: Sister to Babe In The Woods and Lil Babe In The Woods. | Icy Gurl: Sister to Brrr B.B. and Lil Brrr B.B.. | Missy Meow: Sister to Baby Cat, Cool Cat, and Lil Baby Cat. | B-Gurl: Sister to Beats and Lil Beats. |
| | | | |
| Major Lady: Sister to Stardust Queen and Lil Stardust Queen. | Miss Royale: Sister to Royal High-Ney, His Royal High-Ney, and Lil Royal High-Ney. | Virtuelle: Sister to V.R.Q.T., V.R. Dude, and Lil V.R.Q.T. | Sweets: Sister to Sugar, Sweet Guy. and Lil Sugar. |
| | | | |
| Spicy Babe: Sister to Spice, Spicy Kid. and Lil Spice. | Cool Lev: Brother to Scribbles and Lil Scribbles. | Miss Glam: Sister to Miss Baby and Lil Miss Baby. | Moonlight B.B.: Sister to [[Dusk], Nightfall, and Lil Dusk. |
| | | | |
| Sunshine Gurl: Sister to Dawn, Sunny. and Lil Dawn. | Cheer Diva: Sister to Sis Cheer, Bro Cheer, and Lil Bro Cheer. | Vault Queen: Sister to Splits. | Coral Waves: Sister to Rip Tide and Lil Rip Tide. |
Doll Lines
2019
2020
2021
Movie Magic : Agent Glamour,Agent Soul,Galaxy Gurl,Starlette, and Ms. Direct.
Suspected/Upcoming Lines:
These are lines that are rumored, suspected, or are confirmed to be released sometime in the future. Take this information with a grain of salt since things may end up being false of cancelled:
* Series 5: Another opposites themed core series, making it the 3rd and 6th overall core line. It features the older outrageous siblings of Sk8ter Grrrl and Suite Princess.

All-Star B.B's (Series 2): A series 2 of the All-Star B.B's O.M.G. line featuring the older outrageous siblings of Figure 8 and Kicks.
Present Surprise (Series 2): A second series to the Present Surprise O.M.G. line, features and unknown sibling.
Travel: A travel/destination themed line featuring unknown outrageous siblings.
"Tentpole": A themed line featuring three outrageous siblings. A deluxe doll is also expected that costs slightly higher than the standard ones.
(Known) Upcoming Characters
To be listed under here, the upcoming doll must have a known name or sibling.
Unknown Names
Trivia
Packaging
Their packaging deviates from the usual blind wrappers and bags that their little siblings are packaged in. Instead, the OMG have their names and silhouettes on their boxes.
Prototypes
Roller Chick was originally supposed to be named Disco Sk8ter, and is referred to as Roller Babe in descriptions for her doll.
Miss Royale was originally supposed to be named Highness.
Winter Chill was originally going to be named Wintertime Wonderland, and then the name changed to Winter Wonderland. It was likely intended to be a reference to the Bratz line Wintertime Wonderland.
Lights was originally named "Spring Fling", then "Spring Fling Neon".
Dance Dance Dance was originally named "Crew Dance" and even earlier just named "Dance".
Movie Magic was originally named "Moviestars".