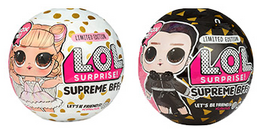 Limited Edition LOL Dolls are exclusive and special dolls that are sold in limited quantities and are usually only found in specific locations, events, or stores.
Supreme Pet
An exclusive pet, Lucky Luxe who can only be obtained through this series and is part of the Series 4 LOL line. She could be found in various shopping stores, making her the only one of the special/Limited Edition dolls with this trait. She comes with 7 surprises, with a sticker in place of a secret code/decoder and water surprise sticker sheet. The ball and various items are gold and teal to match Lucky Luxe.
Supreme BFF
This duo set of LOL was exclusively sold on Amazon.com. It includes Lace and Leather, both with color change features.
An exclusive collaborative doll between LOL x MGA Cares in response to Covid19 in support of the Frontline health workers. She can be bought on a website linked through the LOL website for $9.99 and is based on the original series of dolls, including 7 surprises and a water feature. This series has 2 surprise dolls: P.H.D.B.B. and We Love Teachers.
Deluxe Present Surprise
The deluxe present surprise includes: Sprinkles, Sprin-Claws, Miss Partay and Partay Puppy. The deluxe present surprise comes in a present container.
Gallery