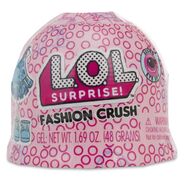 The LOL Surprise! Fashion Crush is a spin-off series and the second not to include any dolls. Each fashion is encased in a clear, sparkly jelly-like substance.
Includes
1 Basket container
1 Jelly
1 complete outfit
1 checklist/collectors poster
1 spy glass
Appearance
The jelly is clear and shiny, with glitter and various sparkly bits in it, coming in purple, pink, turquoise, and gold. The container resembles a laundry basket and comes in gold, pastel turquoise, hot pink, and light pink.
Fashions
Like the normal series, the fashion crush is divided into various categories, such as Sporty, Formal, Beach, and Pajamas. A few of them are based on already-made outfits worn by the dolls but are in different colors. While the rest are unique to this line.
Trivia
One of the rare outfits, incased in gold jelly, comes with very light blue boots. But, in most cases, they have been tinted yellow by the jelly.
Gallery