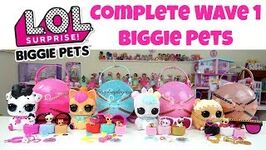 The LOL Surprise Biggie Pets is a spin-off line of the LOL Surprise Pets. Originally there was 4 available, but since then there has been 3 more released. Each Biggie Pet includes 15+ surprises.
Includes & Features
2 pet babies and 1 pet baby OR food baby charm
Wear & share accessories: Spy glasses, and thier necklace becomes a bracelet for you!
1 Wish Bone
1 Funny Bone
1 Fortune Teller Heart
1 Baby Reveal sheet
1 Biggie Pet (which doubles as a wearable backpack or piggy-bank.)
Carrying Case
Collector's poster.
Biggie Pets
Appearance
Each Biggie Pet comes in a round capsule resembling the LOL Mystery Capsule but is half-translucent and has black straps wrapped around it that connect to a heart on the front. The capsules come in light blue, pink, hot pink, and gold. 
Gallery