News
July 8, 2021 - An unboxing of Spirit Queen is posted by @lolsurprisemsc! (A Ms. Direct unboxing is expected very soon!)
An IRL photo of Ms. Direct Box is posted on Instagram!
Cool Lev, Miss Glam, Hoops Cutie, Freshest, Fancy Gurl, and Cherry B.B. are officially released in order to celebrate the L.O.L. Surprise anniversary!
A full unboxing video of Starlette is posted on Bilibili!
July 5, 2021 - Unboxing videos of Galaxy Gurl and Starlette is posted on Chinese video sharing website Bilibili!
A photo of an upcoming Series 2 4 Pack is found (likely in Target's System though the exact source is unknown).
June 8, 2021 - Eye Spy Series is released again in the all new Confetti Reveal series!
June 4, 2021 - Clear photos of the upcoming L.O.L. Surprise! House were posted on several social media websites.
The Deluxe Present Surprise now themed after Slumber Party is released with new characters Slumber Queen and her little sister! The fourth wave also known as the Summer Games of All Star BB's is released! A picture of L.O.L. Surprise Glitter Series rereleases is found!
June 2, 2021 - The third series of the Present Surprise doll line is officially released to retail stores introducing new characters to the L.O.L. Surprise! lineup.
Color Change Surprise is released featuring old characters with Color Change features when dipped in Ice Cold Water! The L.O.L. Surprise! Glitter Series dolls are released in the Color Change Surprise (Bubbly Surprise)!
'The Dance Dance Dance OMG's are released featuring all new OMG's with black light features succeeding Lights (O.M.G.) The Dane Dance Dance Machine is released, replacing the Cruiser. The second wave to the Styling Heads is released.
The Dance Dance Dance tots are released featuring all new B.B.'s with black light features!
L.O.L. Surprise: The Movie announced!
---
L.O.L. Surprise: The Movie is announced as the working title for an upcoming film by L.O.L. Surprise that'll revolve around a little girl who finds herself in the existing universe (also known as the Dolliverse that the L.O.L. Surprise dolls live in.
It will release on October 15, 2021 on American Netflix and will have an international release on November 1st, 2021 with an official runtime of 45 minutes.
The film is described as a mixed-media adventure and is animated by Pixel Zoo (the team behind the L.O.L. Surprise music videos) and the live action parts of the film are currently being filmed by MGA Entertainment.
Featured Video: May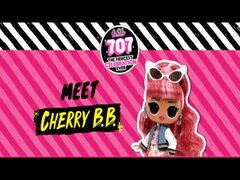 Cherry BB is heading to the 707 Concert!
L.O.L. Surprise!: Where My Girls At?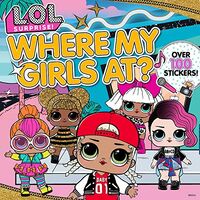 Check out the new L.O.L. Surprise! Book by Luna Ransom!
Links
Official Sites
Affiliates