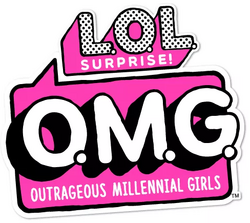 The L.O.L. Surprise! O.M.G. (Outrageous Millennial Girls) are fashion dolls that are the bigger siblings to popular/fan favorite L.O.L. Surprise! tots and lil sisters. It is the third overall spinoff to the LOL Surprise line, succeeding the L.O.L. Surprise! Pets and L.O.L. Surprise! Lils.
The dolls debuted on July 7th 2019, with the first line (Series 1) featuring Royal Bee (big sister to Queen Bee), Neonlicious (big sister to Neon Q.T.), Swag (big sister to M.C. Swag), and Lady Diva (big sister to Diva).
Since then, many lines have been released and a total of 40+ characters have made their debut in the line including the first ever OMG boy, Rocker Boi, who was exclusive to a two-pack with Punk Grrrl in 2020.
In Late August 2021, the first animated series entitled "L.O.L. Surprise House of Surprises" premiered on YouTube. The series revolves around Royal Bee, Neonlicious, Swag, and Lady Diva as they discover the life and times of the House of Surprises.
Characters
Main article: L.O.L. Surprise! O.M.G. Characters
Doll Lines
2019
2020
2021
2022
Trivia
Packaging
Their packaging deviates from the usual blind wrappers and bags that their little siblings are packaged in. Instead, the OMG have their names and silhouettes on their boxes.
Prototypes
Roller Chick was originally supposed to be named Disco Sk8ter, and is referred to as Roller Babe in descriptions for her doll.
Miss Royale was originally supposed to be named Highness.
Winter Chill was originally going to be named Wintertime Wonderland, and then the name changed to Winter Wonderland. It was likely intended to be a reference to the Bratz line Wintertime Wonderland.
Lights was originally named "Spring Fling", then "Spring Fling Neon".
Dance Dance Dance was originally named "Crew Dance" and even earlier just named "Dance".
Movie Magic was originally named "Moviestars".